Across the enterprise, the need for in-building mobile coverage is undeniable and growing. Diverse technologies, new spectrum (5G and CBRS) and tougher demands require solutions that are intelligent, future ready, and easy to manage.
CommScope leads the way with in-building cellular solutions—5G and LTE distributed antenna systems (DAS), small cells and more—designed to drive better employee and customer experiences.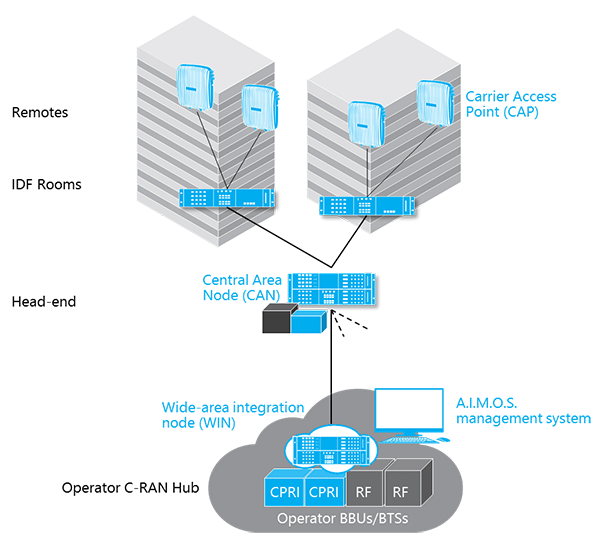 For enterprises and large public venues, ubiquitous, multi-operator in-building wireless connectivity is increasingly critical for employee productivity, customer satisfaction and even brand reputation. For building owners and managers, excellent wireless connectivity can increase property value. For mobile network operators, neutral hosts and system integrators, the system must be economical to install and manage, and flexible to meet evolving mobile technologies and customer needs.
Why CommScope?

All-digital design
All-digital means you make changes in software, not the hardware—so it's simpler to configure and maintain. Plus, our solutions deploy over existing Category 6A, fiber cabling and Ethernet switching to save time and money.

5G built in
CommScope solutions allow you to support 3G and 4G services today, then gracefully evolve to 5G when you're ready.

Market leader
Independent industry researchers consistently rank CommScope as a global market share leader for in-building wireless. From DAS to small cells, we've got you covered…literally.
CommScope's ERA® scales to support 2G, 3G, 4G and 5G in sites ranging from individual office buildings to university campuses and stadiums.
---

VoltServer is the leading provider of intelligent, premise-based power distribution solutions leveraging Digital Electricity™ from centralized source to distributed endpoint loads to improve customer's essential business applications.  Voltserver is reinventing how electrical energy is distributed.
VoltServer's patented Digital Electricity™ solutions safely deliver electricity where, when, and how it is needed. Digital Electricity™ can be delivered using off-the-shelf data cable, at significantly reduced cost, and with greater speed, power, distance, efficiency, intelligence, and flexibility, when compared to competing electrical installations.
Energize your Connected Buildings and Venues with Digital Electricity™
FAST
Speed to Install & $Revenue vs. traditional AC installations
FLEXIBLE
Move/Add/Change Flexibility as spaces grow, change & reconfigure
RESILIENT
Centralized back-up for public safety, mission critical, and experiential/brand apps
SMART
Policy control for automated priority & energy management decisions
SAFE
500 safety checks per second on every Digital Electricity™ circuit
INTEGRATED & SECURE
O&M / BMS integration; local and remote controls; admin/access controls
EXPANDABLE & SCALABLE
Start with one convergence application, and add capacity & apps as you grow
Click here to request additional information on VoltServer.