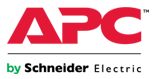 Data center electrical efficiency is rarely planned or managed. The unfortunate result is that most data centers waste substantial amounts of electricity.  With APC by Schneider Electric's power solutions, today it is both possible and prudent to plan, measure, and improve data center efficiency. In addition to reducing electrical consumption, efficiency improvements can gain users higher IT power densities and the ability to install more IT equipment in a given installation.
Check out NETP's online APC Showcase to learn more about power solutions for your data center needs.
---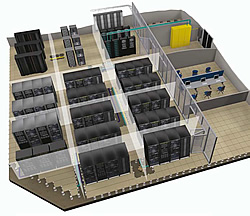 Like their customers, multi-tenant data center providers have complex and diverse needs, and it takes a partner like CommScope to address them all. With a long history of innovation and leadership in all kinds of networking, CommScope offers more than just technology. They offer solutions that add value at every step of the process, for both multi-tenant data center providers and customers. It's an approach CommScope calls Living Infrastructure. Living Infrastructure is the long-term value found in both CommScope's expertise and their technology. It's a 360-degree approach to logical design, deployment and evolution that guides how CommScope builds solutions suited to today's challenges – and tomorrow's. CommScope designs infrastructure built to seamlessly link across data centers and across the world, with end-to-end continuity. CommScope deploys solutions that are easier to install, maintain and upgrade, with the best people in the business backing the best products in the business.
CommScope evolves with your needs with a carefully considered upgrade strategy that carries you into the next phase of technology with minimal disruption and lower upgrade cost. Partnering with CommScope means access to an innovative, world class manufacturer with over 600 data center related patents and 1600 Business Partners working to put their solutions into place worldwide. Plus, their global presence lets them offer local insight and responsive service that delivers.  Click here to learn more.
---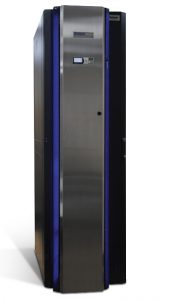 Motivair Chilled Door
The ChilledDoor® Rack Cooling System, by Motivair, isn't just a way to remove 100% of the heat from your server rack, it's a way to change the dynamic of how your data center is cooled. By using advanced "Active" rear door heat exchanger technology, your cooling system becomes a dynamic entity, reacting to minute by minute changes in compute loads of up to 75kW. Whether you're cooling advanced High Performance Computers, high end storage, or simple switchgear, the ChilledDoor® works to keep your computing environment "heat neutral".
The ChilledDoor's smooth metal surface connects seamlessly to your server rack. It moves cooling directly to the rack level where infrastructure meets hardware in perfect unison creating next generation cooling for mission critical IT.
| | |
| --- | --- |
| Active Rack Cooling. Redefine Your PUE | EC fans dynamically adjust to compensate for changing densities. Capable of removing up to 75kW per rack. |
| | Designed for single unit buildup and interchangeable models allowing for future growth |
| | |
Designed for use with any industry standard server rack. Ideal for retrofits and new facilities.
---

Cable Exchange has been a leading supplier of fiber optic and copper trunks and assemblies for the data center market.  Cable Exchange stocks many options of patch cords, pigtails and fiber trunks and has the ability to turn around custom orders in hours not days.  Cable Exchange also offers a lifetime warranty on their fiber trunks so you have complete confidence in the quality and caliber of performance you order and receive.  Cable Exchange can provide technical support to assist in product selection and design the correct product quickly.
Click here to learn more.
---
Basor offers a variety of cable management solutions for your data center. Whether you are looking for ladder rack, enclosed cable troughs in metallic or PVC versions, wire mesh basket tray and strut, Basor has the solution to fit your needs at the price that fits your budget. Basor offers a variety of quick installation options for any installation environment including bends and quick splice options with preconfigured hardware already provided on the basket tray.
Click here to learn more.
---